In what may give West Bengal Chief Minister Mamata Banerjee-led Trinamool Congress (TMC) fresh ammunition to target the Bharatiya Janata Party (BJP) in the run up to the West Bengal Assembly polls, Krishnanagar Member of Parliament Mahua Moitra has claimed she is "under surveillance".
The TMC MP has written a letter to Delhi Police Commissioner S.N. Shrivastava and the Barakhamba Road Police Station SHO seeking withdrawal of the security forces allegedly deployed outside her residence.
"The conduct of these armed officers indicate that they are making notes of movements to and from my residence, it appears to me that I am under some sort of surveillance," said the TMC MP in her letter.
"I wish to remind you that Right to Privacy is a Fundamental Right guaranteed to me, as a citizen of this country," she added.
Moitra also tweeted in this regard and shared the letter written to the Delhi Police Commissioner and Barakhamba Road Police Station SHO.
"Sirs- I request you to kindly remove the personnel immediately @CPDelhi, @cp_delhi, @barakhamba," she tweeted.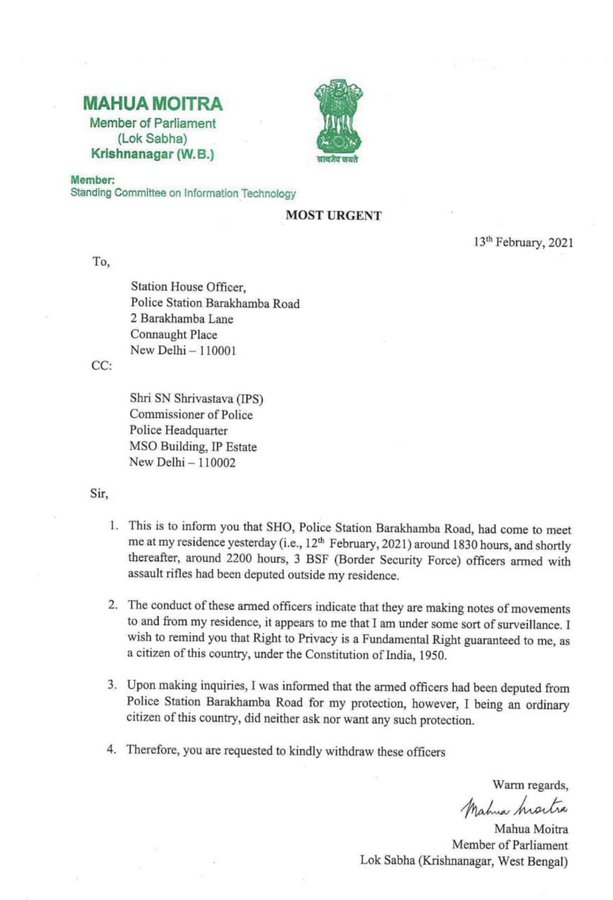 "3 BSF men w/ assault rifles outside my home. Say they are from Barakhamba Road police station for my "protection". Still outside my home. Am a free citizen of India – people will protect me. Request Honb'le HM  @AmitShah Ji &  @HMOIndia to remove immediately," she added in another tweet.
News source : Abp Live