It has been a tumultuous and anxious week for women in Turkey.
WhenPresident Recep Tayyip Erdogan issued a decree at midnight last Friday, annulling Turkey's ratification of the Istanbul Convention on violence against women, women poured on to the streets of Turkish cities to protest. Further demonstrations are planned.
The convention is a legally-binding Council of Europe treaty, covering domestic violence and seeking to end legal impunity for perpetrators. It covers 34 European countries and took effect in 2014.
Among the protesters' slogans were "Istanbul Convention saves lives" and "We don't accept one man's decision".
Women's rights activists, lawyers and opposition politicians have denounced Mr Erdogan's decree, insisting he cannot legally take Turkey out of an international convention ratified by parliament.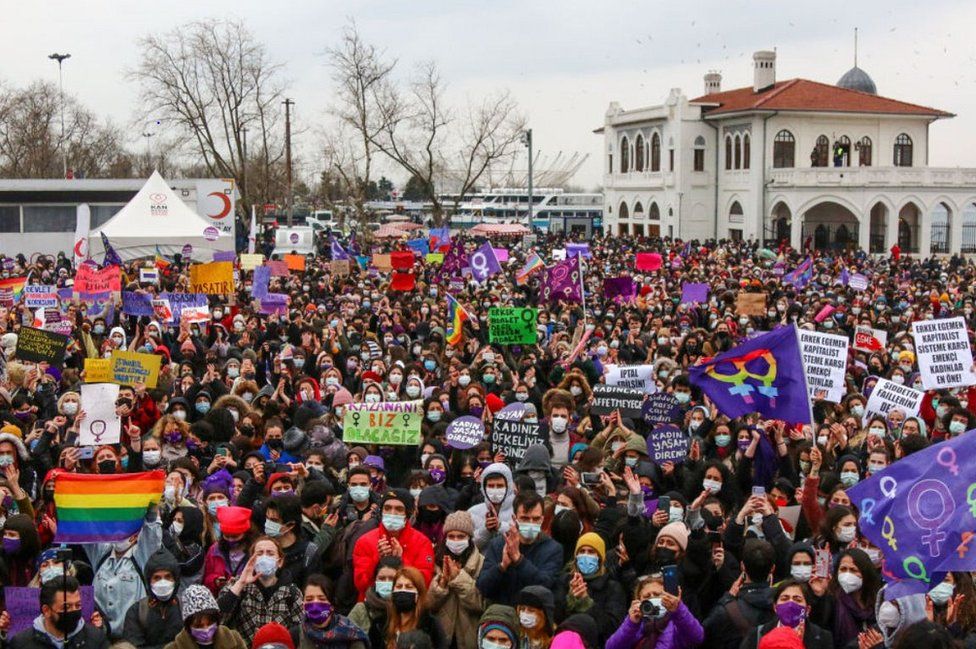 Women are killed in Turkey every day and critics argue that this move puts women in even greater danger.
According to Turkey's We Will Stop Femicide Platform, at least 300 women were murdered in 2020, mostly by their partners, and 171 more women were found dead under suspicious circumstances.
Turkey was the first state to ratify the convention, by a unanimous vote in the parliament in 2012, and it was actively supported by the Women and Democracy Association (Kadem), whose vice-chair is President Erdogan's daughter.
He even praised the convention at one point as evidence that Turkey was a leader in gender equality.
Why scrap it?
However, Mr Erdogan has recently become more vulnerable politically. He has bowed to the demands of hardliners, both within his conservative AK party and in the Islamist opposition Felicity Party, in return for their support.
Opponents of the convention have complained it encourages divorce and undermines traditional family values. They find it especially problematic that signatories have to protect victims from discrimination regardless of their sexual orientation or gender identity. Their worry is that this single clause may lead to gay marriage.
President Erdogan's spokesperson, Fahrettin Altun, argued that the Istanbul Convention's original intention of promoting women's rights had been "hijacked by a group of people attempting to normalise homosexuality" and that it was incompatible with Turkey's social and family values.
The Islamist-rooted AK party has increasingly voiced anti-LGBT+ sentiments. Most prominent so far has been a tweet from Interior Minister Suleyman Soylu calling LGBT+ individuals "perverted" – a comment that prompted a Twitter warning flag.
News Source: BBC News