Eighteen people have been arrested after protesters blocked tram lines in Manchester, police have said.
The Kill the Bill protest against the government's Police and Crime Bill was described as "largely peaceful" by Greater Manchester Police.
But "significant disruption" was caused by protesters sitting on the Metrolink line in St Peter's Square, police said.
Protests were also held in towns and cities such as Bath, Falmouth, Nottingham and Sheffield.
In Brighton, hundreds of people gathered in front of the city's police headquarters to protest.
In Cambridge about 100 people gathered outside the Parkside police station, with some protestors climbing on top of the building's entrance lobby.
Mass gatherings are currently banned under coronavirus legislation and anyone breaching regulations could be fined.
Demonstrators marched through Manchester city centre to protest against an element of the Police and Crime Bill, which would ban residing on any private or public land in vehicles without permission where they are causing "significant disruption, distress or harm to local communities".
Greater Manchester Police said officers gave repeated warnings to people who were obstructing the tram lines before making 18 arrests.
The majority of the crowd had left by 16:00 GMT, a force spokesman said.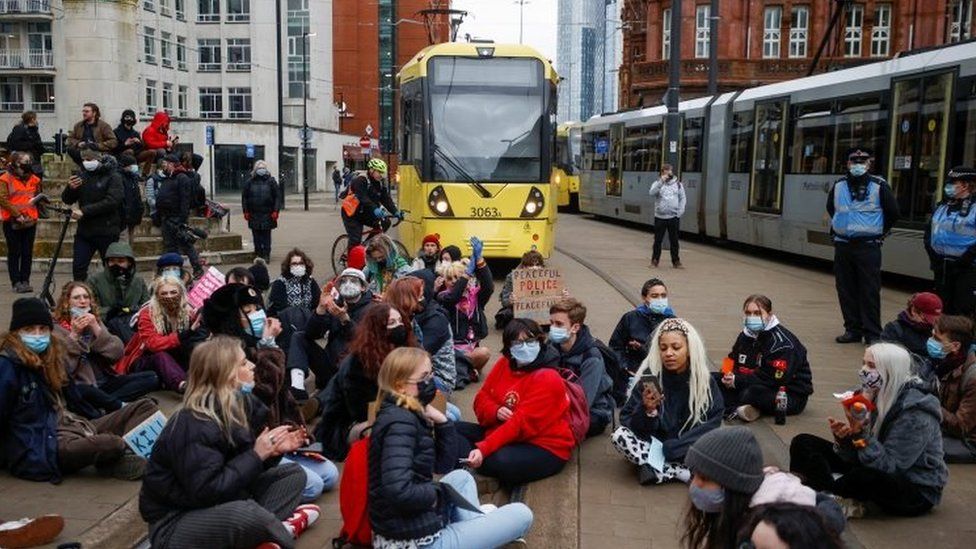 Chief Superintendent Andy Sidebotham said the protest was "largely peaceful and without issue".
"However, as the day went on the remaining group caused significant disruption to the public of Greater Manchester," he said.
"I understand the desire to peacefully protest but by blocking trams this smaller group prevented passengers from travelling to work for essential journeys, including health and care workers.
"This was clearly unacceptable and, in our duty to serve the public, we could not allow to be tolerated any longer."
Violence at a third night of protests in Bristol was condemned as "disgraceful" earlier on Saturday by Prime Minister Boris Johnson.
Ten people were arrested in the city after a Kill the Bill protest ended in scuffles.
News Source: BBC News