Italy has suspended 52 prison guards after video footage showed officers beating inmates with batons, slapping and kicking them at a jail near Naples.
The prison surveillance video was posted by the news website Domani.
The guards were responding to a protest by inmates alarmed by the spread of coronavirus, during Italy's first lockdown in April last year.
The government is now investigating the guards' brutality at Santa Maria Capua Vetere prison, just north of Naples.
The video shows unarmed prisoners running a gauntlet of baton-wielding guards, many of whom have helmets and shields, who assault them viciously.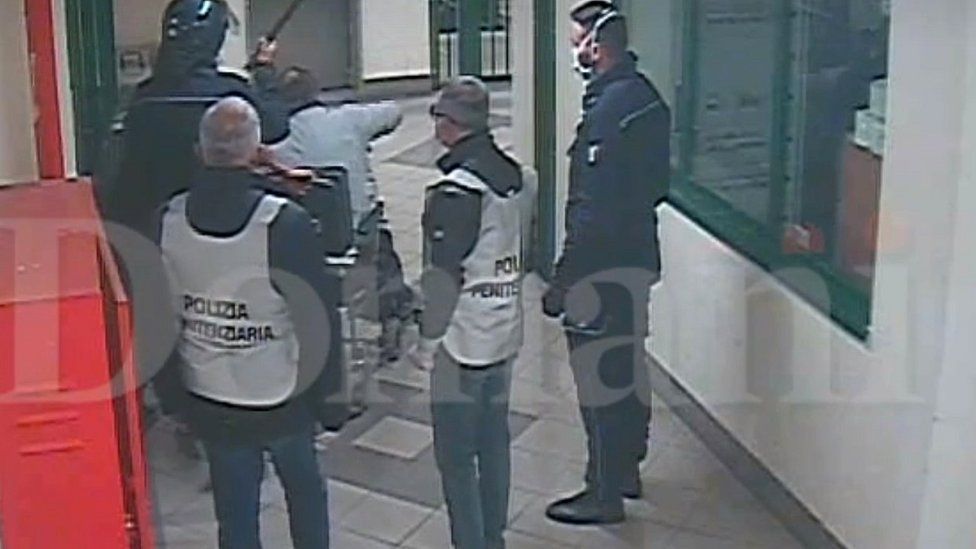 Some of the prisoners are seen clearly limping or struggling to stand up. One prisoner in a wheelchair is even hit with a baton while being pushed along a corridor.
In another scene, prisoners are seen kneeling and facing two walls as guards stand over them and randomly lash out with baton blows, kicks and slaps.
The prisoners' protest was part of a wave of unrest in Italian prisons, as inmates demanded Covid-19 tests and other protection from coronavirus. A prisoner had died from Covid at the prison near Naples shortly before the 6 April 2020 unrest.
Justice Minister Marta Cartabia called the violence "a betrayal of the constitution".
She said it was "an offence and an outrage to the dignity of the prisoners and to the uniform that every woman and man of the penitentiary police must wear with honour".
Prison officers' unions have called the suspensions "disproportionate", while nationalist League party leader Matteo Salvini voiced support for the prison police. He added however that "if someone did wrong then he must pay".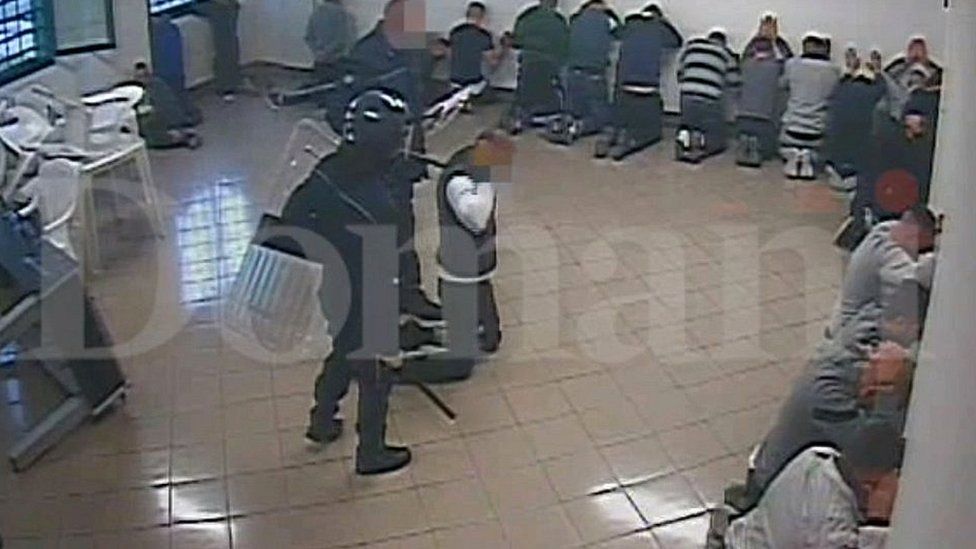 'Tame the beasts'
More than 110 prison staff are under investigation, including eight in detention and 18 under house arrest. The regional director of prisons has been suspended.
The wheelchair user – who left the prison a few months later – told Italy's Ansa news agency that the violence "destroyed me – mentally they killed me".
"I can't think about it again, I'll go to the madhouse. I think they were high on drugs, they all had batons, even the female guard," former inmate Vincenzo Cacace added. "They massacred us, they killed one lad. They abused one inmate with a baton."
Ansa reports that suspects shared text messages such as "we'll cull them like calves", "tame the beasts" and "four hours of hell for them".
According to Domani's director Stefano Feltri, at the time of the prisoners' protest over conditions at Santa Maria Capua Vetere the jail lacked face masks, drinking water and clean linen.
Source : BBC